News: Tanah Sutera Development's commitment to create forever homes for every generation surpasses investors' expectations
Oct 20, 2020
Johor-based Tanah Sutera Development is renowned throughout the southern state for creating high-quality mixed-use townships and its commitment to sustainability.
Making its inaugural appearance at the PropertyGuru Asia Property Awards (Malaysia) in 2020, the thirty-year-old-developer has cemented its reputation in recent years with the ongoing development of Taman Sutera Utama in the southern economic corridor of Iskandar Malaysia. 
Building off the back of the success of semi-detached projects like Joyous and Inspired, the firm's latest property, Sutera Ideal, is the newest addition to Taman Sutera Utama. The focus is very much on multi-generational living at the 57-unit terraced housing freehold development.
The project, which is set for completion in 2021, offers residents spacious five-bedroom layouts ranging from 2,948 to 3,204 square feet, all set within an upscale gated community that caters to the lifestyle requirements of all family members.
With this in mind, the judging panel recently named Sutera Ideal as Best High End Landed Development (Southern) winner at the PropertyGuru Asia Property Awards (Malaysia) virtual gala 2020. 
"Functional spaces, created with architectural quality and design finesse, Sutera Ideal three-storey residences in Iskandar are conceptualised as forever homes for every generation," according to the Awards judging panel. "The flexibility to expand is a flawless strategy promising attractive future possibilities for evolving families." 
The firm also picked up a highly commended gong in the Best Mega Township Development (Malaysia) category for its master-planned Taman Sutera Utama and Taman Sutera — another rapidly emerging township in Iskandar — properties, both of which have been jointly developed with the regional developer behemoth Keppel Land. 
Taman Sutera's unique selling proposition is undoubtedly its focus on sustainability and environmentally-friendly living. In addition to its growing portfolio of residential and commercial developments — the company is also behind Sutera Mall and Sutera Commercial Hub — Tanah Sutera is dedicated to creating green spaces, lifestyle amenities and education hubs that aim to foster a sustainable lifestyle.
The emphasis on and commitment to green living is evident through the establishment of Sutera Good Earth, which has been designed to ensure its townships are all zero-waste. 
The latest project under Sutera Good Earth, SGE Farm, specialises in converting food waste from Sutera Mall and its neighbourhood into composts, closing the food loop and nurturing the greater community.
Initiatives such as these contributed towards the judging panel's decision to select the company for Special Recognition in Sustainable Construction and Special Recognition for Building Communities & ESG.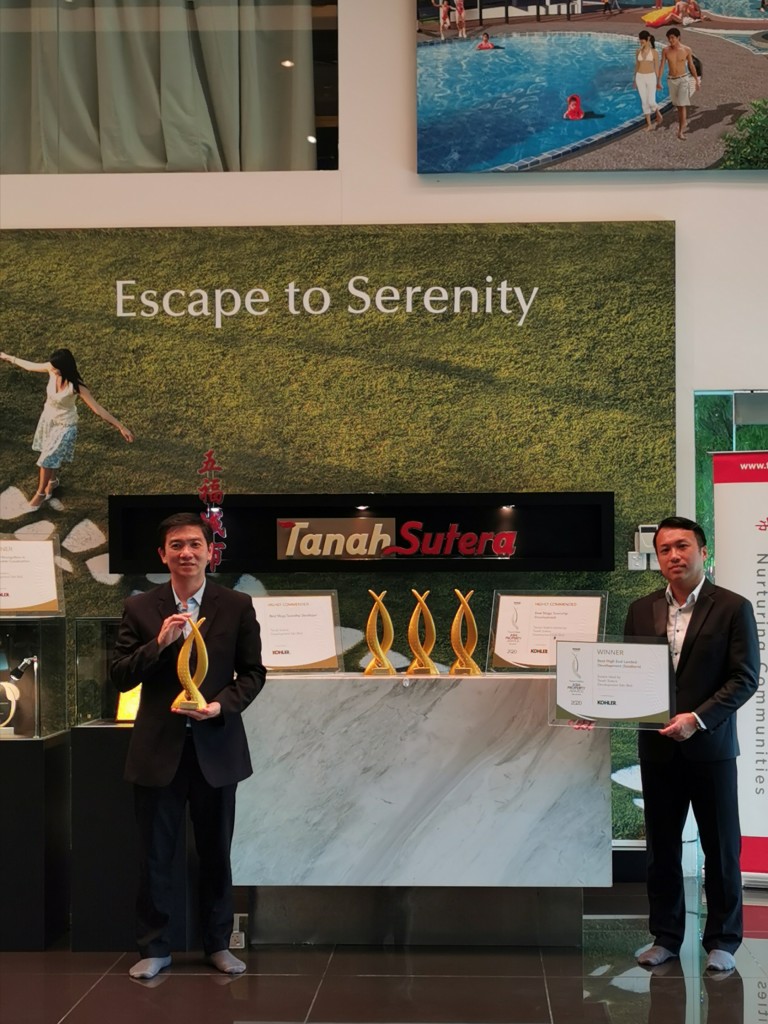 "Tanah Sutera Development proactively implements sustainable construction methodology, adding effective microorganisms into concrete and soil which impacts the environment in a positive way," the judges added.
"Pavers allow rainwater to soak back into the ground, while eco-friendly practices drive developments, such as using low-density Greencon blocks and safer paints environmentally and health-wise." 
Buoyed by the heightened consumer demand for sustainable lifestyle options, Tanah Sutera plans in the coming years to develop an eco-park where humans and animals co-existing in the same living environment.
The park would also serve as a learning station for future generations to better understand the environment and the importance of preserving the eco-system.
It is slated to include a fruit farm, animal farm, a 25-kilometre jogging track biking trail and campsite amongst other eco-friendly amenities and activities.  
For more information, email awards@propertyguru.com or visit the official website: AsiaPropertyAwards.com.